Did you know that 77% of employers surveyed think
"people skills" are just as important as technical skills?
Yet, only 31% of employers offer this type of training to their employees.
But, here's the secret . . . 
Companies who offer soft skills training enjoy a 250% Return on
Investment (ROI) due to higher productivity and retention.
What are Soft Skills?
"Soft skills" are also known as people skills or interpersonal skills. These terms refer to the all the personal attitudes and behaviors people use to relate to others in a professional and productive manner.
Having good "People Skills" means your caregivers have empathy, self-awareness, flexibility, problems solving skills, time management skills, excellent communication, and strong work ethics.
Can Soft Skill be taught?
You bet they can! Experts believe soft skills are best taught through a combination of formal training and one-on-one coaching.
Take Your Team's People Skills Inventory
Download INSPIRE YOUR ORDINARY TEAM TO DELIVER EXTRAORDINARY CARE.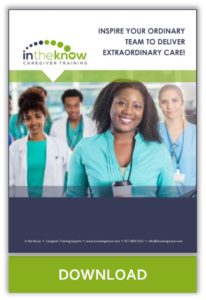 In it, you'll find the People Skills Inventory. This is a brief questionnaire supervisors can use to pinpoint their team's strengths and weaknesses. Results offer plenty of suggestions on how to address your team's weaknesses with targeted training topics.
Ready to Add Soft Skills Training to Your Learning Library?
Reach out to one of our Caregiver Training Advisors today to find out how easy it is to
fit professionally prepared, soft skills training into your budget.
You'll see how a small investment in these important skills can make a
BIG improvement in your teams' productivity and retention!