On the Go E-Learning for Caregivers
Interactive & Engaging
Easy to use, fun, and rewarding training modules
All Access Pass
Purchase an annual pass to 125+ online training modules
Tracking & Reporting
Advanced reporting features to help you manage your teams
Mobile-Friendly Courses
Learners can complete courses on their own time and devices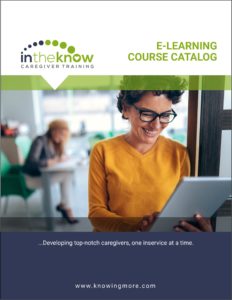 Download the full
E-Learning Course Catalog
We're here to help you find the right training for your team.
What will I see when I sign up for a demonstration?
A: During a demo, you'll get the unique chance to preview the back end of our e-learning platform. You'll see a course in action, review a sample training catalog and knowledge program, and preview all of the tracking and reporting features that will simplify and streamline your continuing education program.
We create in-house inservices. Why should I switch to e-learning?
A:
 At first glance, technology-based learning may seem expensive because it is priced per learner.  However, switching to technology-based learning can actually save your organization thousands of dollars per year!  
According to Training Magazine, organizations typically save between 50-70% when instructor-led training is replaced with online course delivery.
For example, your organization saves:
Printing costs for inservice materials.
Postage costs if your organization currently mails inservices to learners.
The trainer's time/salary to print materials, prepare and teach each inservice topic.  But that's not all!  Think of the time spent grading the post-tests, reviewing evaluations, creating and printing certificates and filing post-tests in employee files.  You'll save all that time with e-learning!
The hassle of coordinating schedules for inservice meetings.  This means no lost productivity, no time spent away from client care and no money spent paying your aides for travel time.