"If your actions inspire others to dream more,
learn more, do more and become more, you are a leader."

~ John Quincy Adams

Motivation drives everything! 
What will you do to motivate your team today? Motivation is tied to everything we do and every effort we make.   At work, it's the reason some people go above and beyond while others get by doing the bare minimum.
Why is it important to motivate your team?
There are many benefits to a highly motivated team.  Here are a few:
Better Client Care.  Happy and motivated Caregivers provide better client care.
Decreases Absences. Employees who are energized and excited about work have fewer absences.
Improves Retention  You'll keep your employees longer by keeping them motivated!
A Recruitment Tool.  You can always mention your motivators in your recruitment ads to increase your talent pool!
How do you do it?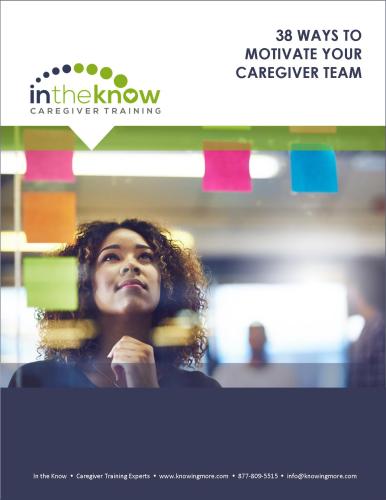 Download 38 Ways to Motivate Your Caregiver Team.
In it you'll learn 38 things you can do to keep your caregiver team loyal, energized, and motivated.
Your caregivers are the core of your business – make sure you have practices in place to motivate and encourage them to be their very best every day.
Here's a sneak peak at one of the 38 suggestions in the report:
#19 Hold monthly "Coffee Talks"

It's hard to get teams of Caregivers together, especially if they all work in different locations and on different shifts! Start a tradition of serving coffee and muffins (or another treat) on the same day each month. (For example, schedule your "coffee talks" on the first Tuesday of every month.) Invite caregivers to stop by and talk. Be available to listen, help solve problems, set goals, and provide encouragement!