Are your clients happy with the services you provide? Unhappy clients (and their families) can devastate an agency's reputation. Their unhappy feelings filter out into the community by word of mouth and negative online reviews. Dissatisfied clients can lead to decreased referrals, problems retaining your best caregivers, and a decline in billable hours.
If you're struggling for referrals, scraping the bottom of the barrel for new caregivers, or battling a poor reputation, you may be making one or more of the following three mistakes.
1. Caregivers Are Unprepared for the Job
A common complaint from home care clients is that their caregivers are not properly trained for the job.
Here's an example: Laura needed help caring for her mother who suffered from Alzheimer's disease. Laura requested an aide that understood how to communicate and care for someone with AD, and who also knew how to keep her mother active and safe. The first caregiver the agency sent admitted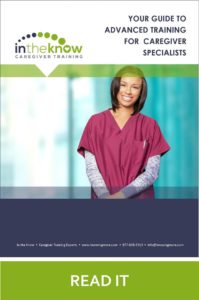 she did not have any training in caring for clients with Alzheimer's' disease. When Laura requested a change, she was told there was no one else available. Lack of knowledge and training is frustrating to Caregivers too. Laura's mother and the caregiver struggled for two weeks, then the caregiver quit. The agency lost a client and a caregiver because of lack of training.
Agencies that provide advanced training in diseases and conditions that match their client population will empower their Caregivers, so they can take better care of the agency's clients. Read more about Creating Advanced Roles with Specialist Training.
2. Caregivers Lack Professionalism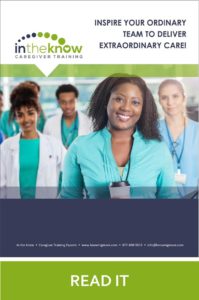 If your clients complain about caregivers who don't show up on time, have problems with caregivers' hygiene, or report that your caregivers have poor communication skills, then it may be time to deliver some "soft skills" or "people skills" training.
Having good "People Skills" means your caregivers have empathy, self-awareness, flexibility, problems solving skills, time management skills, excellent communication and strong work ethics.
Caregivers who know how to deliver exceptional customer service in a professional manner will lead to happy clients who want to shout out their positive reviews of your organization, both in the community and online!
Read "Inspire Your Ordinary Team to Deliver Extraordinary Care" and take the free "people skills" inventory to find out how your team measures up!
3. Rotating Caregivers.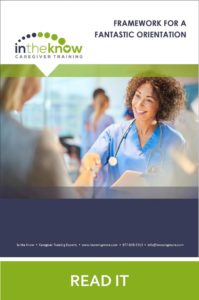 Your clients want stability. They want one caregiver they can count on to know their likes and dislikes. They want to know they can trust the person who provides such intimate care. That trust can only be built by nurturing a stable, long-term relationship. One client wrote an online review that said "My worker has changed about seven times in the past two months."
You go to great lengths to hire the right people.  Keeping them is the problem!  Did you know that most employee turnover happens within the first three months of employment? It's true.  And, your orientation can make ALL the difference!
Read "A Framework for a Fantastic Orientation" to learn a couple of easy things you can do to avoid the most common orientation pitfalls and keep the Caregivers you carefully selected from quitting!
Are You Making Any of These Mistakes?
It's true that all businesses struggle and make mistakes. But it's important to be able to recognize where things went  wrong and to take the appropriate steps toward change. That's the only way to grow, improve and thrive in your industry. If you're making any of the mistakes outlined above, then take the first step today to resolve the problem and prevent any negative impact it has on your client referrals, caregiver retention, and your reputation in the community.