It's March! That means it's National Nutrition Month.
National Nutrition Month is an annual nutrition education and information campaign created by the Academy of Nutrition and Dietetics. It focuses attention on "the importance of making informed food choices and developing sound eating habits."
Are your caregivers intheknow?
There's no better time than Spring to jumpstart a nutrition awareness program. Providing continuing education opportunities in nutrition will equip your caregivers with the knowledge they need to encourage clients to make informed food choices and develop sound eating habits.
Food is life!
We all need food to survive. But, not all food choices lead to healthy outcomes. The foods we choose have the potential to either support or sabotage our health.
Many of the diseases suffered by the senior clients you serve are the result of poor food choices across a lifetime. These lifestyle choices are hard habits to break.
Did you know . . .
678,000 people die each year in the U.S. due to problems with nutrition.
The typical American diet (high in calories, fat, and sugar) contributes to the leading causes of death, including heart disease, diabetes, obesity, and stroke.
What can you do?
Are your caregivers prepared to handle the challenges that go along with caring for clients with nutrition-related illnesses?
Download ITK's Caregiver Challenge and
"Get In the Know Now about Nutrition."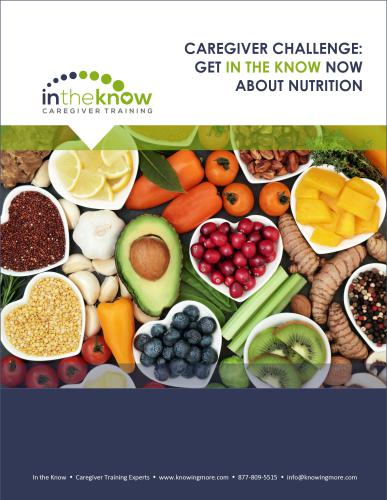 What's Inside?
A thought-provoking quiz for caregivers
Tips on preparing food on a tight budget, and
An explanation of common but confusing food labels.