Every year Home Care Pulse performs the most extensive annual study
on the private duty home care industry and publishes the
results as the annual Home Care Benchmarking Study.
What's New in 2019?
This year's Study has been revamped to provide even more in-depth insights and will be split into a Spring edition and a Fall edition. The Spring edition will be released in May, and the Fall edition will arrive in September. This change will help you get relevant data on the industry throughout the year and give you more options for purchasing the study.
Home Care Pulse Needs Your Input!
The Study relies on agencies like you to contribute by taking the survey that supplies this valuable data. Survey participants will receive significant discounts on their copy of the 2019 Study.
Learn more about his year's study and download the Prep Worksheet for the 2019 Survey TODAY!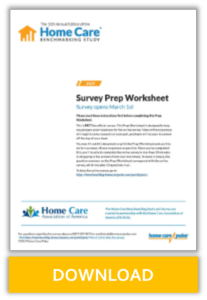 We hope you'll contribute to this year's online survey and take advantage of the substantial discount you'll receive when you participate.