In a poll last week, we asked 'what's holding you back from trying e-learning with your caregivers.'
And, your responses were loud and clear!
A whopping 94 percent of you said, "My caregivers don't have computers."
Well, guess what? That's GREAT!
They don't NEED computers!
In fact, that's one of the most common myths about e-learning.
Read on as we bust this myth, and four others, that may be holding you back.
MYTH #1: You need a computer to do e-learning.

Nope! That's just not true.  Our mobile friendly app allows your caregivers to complete their e-learning modules on ANY type of device—even a smart phone!  The folks at the Pew Research Center tell us that 95% of Americans now own some type of cell phone. Chances are good that your caregivers have a smart phone, tablet or some other type of device they can use for e-learning.
MYTH #2: Only tech-savvy, millennials want to learn this way.
False! It's true that older adults may be slower to warm up to this type of learning. But once they try it, they're hooked! There are two main reasons why older learners love e-learning.
First, older learners tend to be more self-directed. That means it's important for them to be in control. E-learning gives them that control because it is self-paced.  Learners can take more time when they need more help.  Then, they can move along once they've mastered the skill.
The other reason older learners fall in love with e-learning is because it's a private way to learn. This is important for adult learners who may be nervous about answering questions in front of peers and their supervisor. E-learning gives them a safe space to experiment and make mistakes.
MYTH #3: It's too expensive.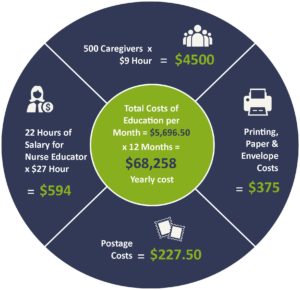 At first glance, technology-based learning may seem expensive because it is priced per learner.  However, switching to technology-based learning can actually save your organization thousands of dollars per year!  According to Training Magazine, organizations typically save between 50-70% when instructor-led training is replaced with online course delivery.
The graphic to the right show's a breakdown of one agency's cost for just one hour of CE credit. This agency offers a combination of instructor led training and self-study.  Typically, half of their caregivers make it to inservice meetings.  For the other half, the trainer prints self-study materials and mails them to the caregivers.
With a final price tag of $5,696.50 per month, this agency calculated they were spending over $68,000 per year on continuing education. They were able to cut that cost in HALF by switching to e-learning.
MYTH #4: E-learning replaces classroom instruction.
There's no doubt that online learning has revolutionized caregiver training.  It's convenient, easy, interactive and engaging.  It makes tracking and reporting a breeze for compliance.
But that doesn't mean classroom learning is obsolete.  There are still times when instructor-led training is an absolute must!
The best agencies and facilities present their caregivers with a combination of both e-learning and live, classroom training with a Blended Learning Plan.
Want to learn more about a Blended Learning Plan?
Read: 3 Ways a Blended Learning Plan Will Improve Your Caregiver Training
MYTH #5:  It's boring!
We've seen our fair share of boring e-learning modules. I'm sure you've seen them too. They are nothing more than a collection of stale, old PowerPoint slides.
But, that's where our modules are different! Our modules are built by professional Instructional Designers that understand how to create highly interactive and immersive learning experiences using cutting edge technology. Our e-learning keeps caregivers plugged in and asking for more!
See for yourself!