At least one in five caregivers in the United States speaks Spanish as their native language — and if they receive any caregiver training at all, it's usually in English.
Trying to learn a new skill in a second language is a little bit like trying to tickle a crocodile under the elbow with a spaghetti noodle!
That's why we continue to work so hard to expand our library of Spanish-language courses. We're kicking off 2020 with 20 courses customized to the unique needs of your Spanish-speaking caregivers, to help them achieve the same learning goals and requirements as your English-speaking caregivers—with less stress and better retention.
What courses are available?
Download the complete list today!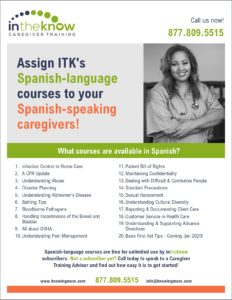 How much do the courses cost?
Spanish-language courses are free for unlimited use by intheknow subscribers. Not a subscriber yet? Schedule a demo with a Caregiver Training Advisor today to find out how easy it is to get started!