Your job would be so much easier if there was a one-size-fits-all solution to your caregiver training needs. But, there are variables that create unique training needs for each healthcare organization. 
And, you have to choose how you want to DELIVER your training. Do you want to use online learning, in-person training, or a combination of both?
The experts agree . . . blended learning (which combines online and in-person training) is the most effective method to support skill development for health professionals.
A closer look at blended learning.
A blended learning plan is a strategy that uses a combination of traditional classroom training with online learning. The mix or "blend" of training strategies is where the magic happens!
A blended approach gives you the options you need. Topics that require hands-on demonstration can be taught in the classroom, while others can be assigned online. For example, you may choose to assign an e-learning module on "Fall Risk Factors." Then, follow up with an instructor-led demonstration in "Performing Safe Transfers." A blended plan means you're not stuck with just one delivery method!
We make blended learning easy for you.
Now, when you subscribe to intheknow's online learning portal, you'll automatically qualify for complimentary PDF inservice topics to build your Blended Learning Plan!
If you have . . .
Up to 20 learners, you'll get 3 Free PDFs.
Up to 50 learners, you'll get 6 Free PDFs.
Up to 75 users, you'll get 9 Free PDFs.
100+ learners, you'll get 12 Free PDFs.
Each PDF course contains everything you need to teach the class to your entire team, in person. Each topic comes with a learner section for your caregivers and an instructor packet filled with group activities, discussion questions, printables, and more.
Okay, you've chosen your blended learning plan, now what?
How do you even begin to design a training program that meets your compliance regulations, your caregivers' learning needs, and the needs of the clients they care for? It's a common question without an easy answer.
These two tools can help!
We teamed up with the home care experts at Home Care Pulse to develop The Caregiver Learning Ladder. It's a reliable roadmap that will help you tailor your training program to meet the needs of your caregivers and your unique client population.
Download this free, comprehensive tool today to learn exactly what training your caregivers need:
Upon hire,
At ninety days,
At six months, and
At one year.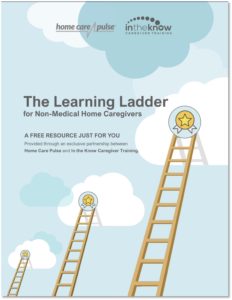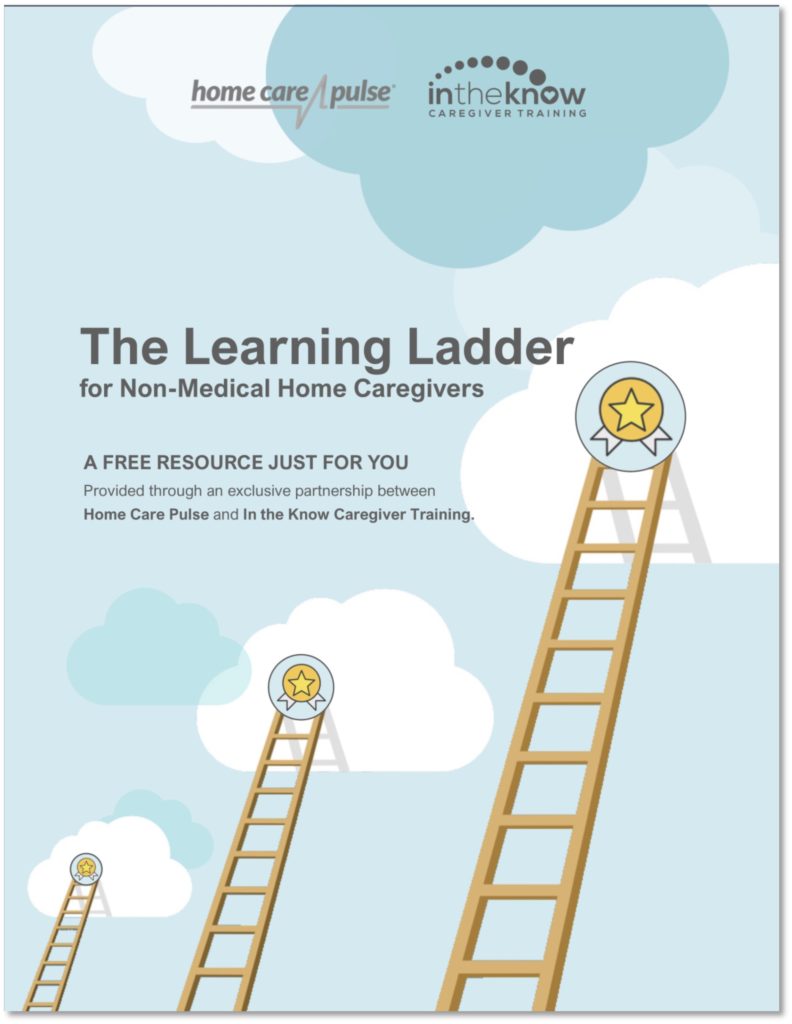 And, we created The Caregiver Training Curriculum Mapping Tool to help streamline the process even more. Download this free tool today to see how easy it is to create the customized training program your caregivers need and your clients deserve.