You're probably well aware that the new PDGM proposed by the Centers for Medicare & Medicaid Services (CMS) will lead to a decrease in therapy visits for clients. In a nutshell, clients who receive a higher volume of therapy visits will generate reimbursement at significantly lower rates.
According to Playmaker Health, nearly half of all providers serve more than 50% of clients with 10 or more therapy visits. This will be an area that sees a significant decrease in reimbursement.
So, what's the problem?
The problem comes when clients who need the therapy are denied access because of cost.
And, isn't it true that EVERY client could benefit from a little therapy?
What can you do?
Prepare your team early for this shift by adopting a "Restorative Care" approach to care. With a "Restorative Care" model, you'll train your caregivers to help every client live up to their full potential, so they can rely less on therapy.
Of course, this doesn't eliminate the need for physical and occupational therapy, but a whole-team approach to restorative care has the potential to benefit your clients and your bottom line, alike.
What exactly is restorative care?
Restorative means "having the ability to renew strength or health." So, restorative care is a type of care that helps clients feel strong and healthy once more. It's sort of like restoring a table or a classic car. You take something that has become run-down and worn out and try to bring it back its former beauty and usefulness.
Except with your clients, you're starting with people who have become weak or frail from illness or disease and you try to revive that spark that once twinkled in their eyes.
How do you do it?
Download our new Restorative Care Caregiver Challenge today!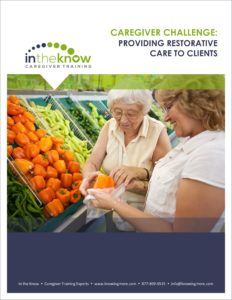 In it you'll find:
A challenging quiz you can distribute to your care team that allows you to gauge current knowledge and identify any knowledge gaps.
Information on the importance of Range of Motion and Mobility
And helpful tips on how to inspire clients who are depressed, tired, confused, or in pain and may have trouble getting motivated to participate in restorative care activities.