Do you have excessive overtime and recruitment spending?
Are you forced to turn away cases due to lack of staff?
How does your agency stack-up against your competitors?
A New Benchmark Report
Find out how your competitors are doing in myCNAjobs' 2019 Key Findings Benchmark Report.
The caregiver recruitment experts at myCNAjobs analyzed data from hundreds of home care agencies across the nation to learn what issues are burning on their mind in 2019.
Fill out the form below for your FREE copy of
myCNAjob's 2019 Key Findings Benchmark Report.

In it, you'll learn:
How your benefits stack up against the competition.
The percent of agencies that turn down cases due to lack of staff, and
Top recruitment pain points and key strategies of fellow agencies.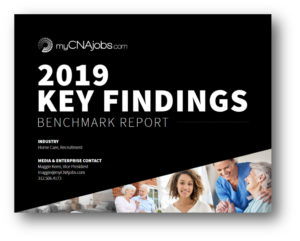 Want to learn even more?
Get additional expert advice from our friends at myCNAjobs by exploring these resources.
About myCNAjobs
myCNAjobs offers a suite of recruitment tools to recruit Caregivers, Resident Aides, CNAs, & Dietary. Rated #1 return-on-investment in senior care, myCNAjobs partners with companies across the nation to access millions of front-line workers nationwide. We're in the business of helping companies hire efficiently while getting rid of meaningless job postings, resumes, and clicks. We're cutting the holy-grail of recruitment metrics in half — cost per hire.