The first week of December is National Handwashing Awareness Week!
What's the Point?
The goal of National Handwashing Awareness Week is to decrease the spread of the flu and other infectious diseases by bringing awareness to the importance of good hand hygiene.
Scientists have known for more than 100 years that handwashing helps prevent infection.  Yet, study after study shows that more than half of all healthcare workers fail to wash their hands as often as (or as well as) they should.
Why Don't We Wash Our Hands?
Here are some common excuses:
"I don't have time to keep washing my hands all day long."
"My skin gets dry if I wash my hands too often."
"There's never a sink around when I need to wash my hands."
"I don't need to wash my hands. I wear gloves."
"Handwashing is not as important in home care as it is in hospitals."
The Facts
Germs are spread (in every healthcare setting) by the hands of healthcare workers.
On average, you touch 300 surfaces every 30 minutes, exposing you to 840,000 germs.
That's why 80 % of all infectious diseases are spread by hands.
What can we do?
Do your caregiver know when, why, and how to wash their hands? Handwashing is one of the most important parts of an infection control plan in healthcare. Find out how prepared your caregivers are by using the Infection Control Caregiver Challenge!
Download the Infection Control Caregiver Challenge Today!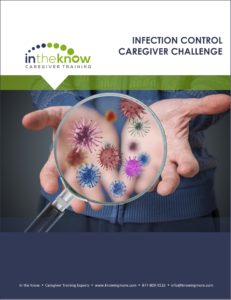 Distribute the Infection Control Caregiver Challenge  to your Caregivers to
measure and boost their knowledge of common infection control issues.
What's Inside?

A thought-provoking quiz for caregivers.
Tips on breaking the chain of infection,
Advice on when and why handwashing is necessary, and
An in-depth look at the symptoms of the flu.